I had left off the story after cycling to Lake Balkhash…and then took a bus back to Almaty because I decided to not try and die on the desert steppe next to a salt lake. In Almaty, I stayed with a fellow American that had lived there for quite awhile. Through "warmshowers", I had met another fellow that helped me find a nice bike shop for repairs and plan for a little trip to the Assey Plateau. On the "Media" page you can watch the video entitled "Assey Plateau" of footage I took during these few days.
The first attempt (May 31), I had ridden for a day from Almaty. While riding around the city I had been having difficulties with punctures. From what I could see, it looked like the spokes were coming through and tearing open the tubes from the bottom. What was even unfortunate was the patches didn't seem to hold.
Puncture #1 was right at a turnoff to head towards the plateau. This little guy INSISTED on helping me. No, I do not promote child labor.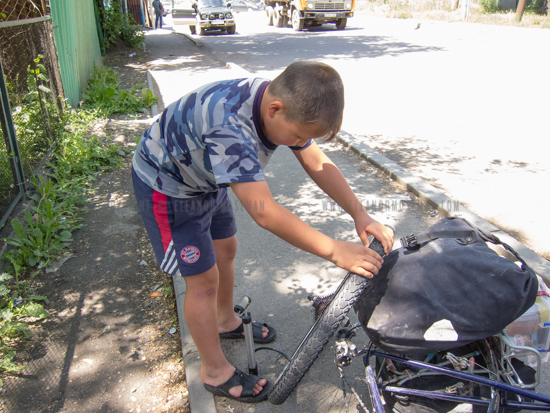 I make pretty good time after this puncture; a bit of rolling hills and then a little bit of down. Did make an ice cream stop and purchased some naan and other miscellany snacks to take to the plateau.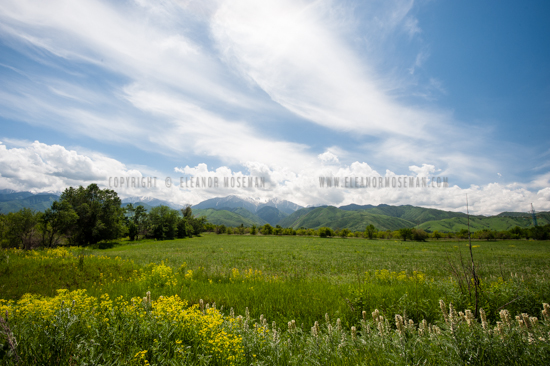 Puncture #2. Well, I couldn't repair it and blew off 4 patches before deciding to throw everything in the back of a car and pay $30 to get back to Almaty. It was very evident my spokes were eating my tubes. I now only had 1 tube left…and the sun is setting.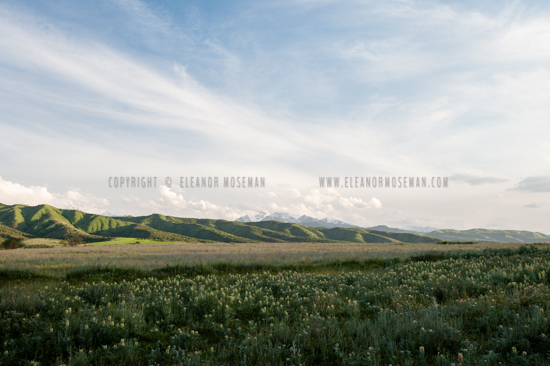 After fussing with the bike and adding two cheap rubber rim strip tape and lining the rim with electrical tape x2, I head back out on June 3rd. Two days before my 33rd birthday. I had promised myself to spend my birthday the way I enjoy the most, alone in some amazing place.

June 3 2012
I take the bus about 20km before I had turned back the previous time. The weather is ominous…no rain, yet.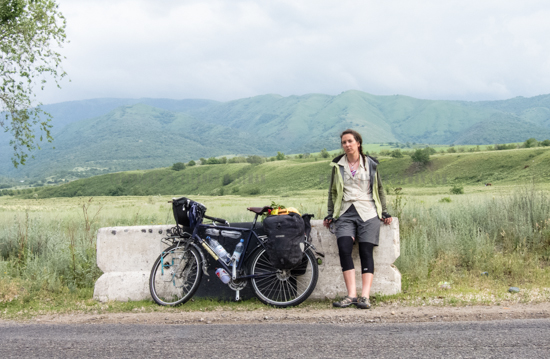 There is about 30km from the bus station until the unmarked turnoff to the plateau. I only knew where it was by the mileage and the landmarks that were given to me by one of the Almaty pilots, Taz, that lives in the capital.
I am now on a nearly single land country road with minimal homes and some shepherds. By the looks of the road and the direction, I may be at the base of the mountains by nightfall. I collect water from a fresh spring and try to find a place to sleep for the night before the rain comes down.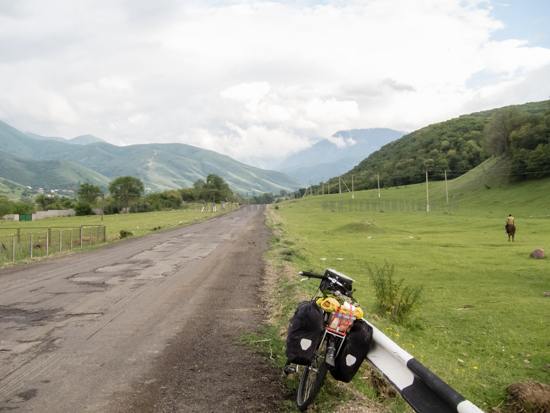 You'll notice I am only carrying two panniers, as I had left a lot of my gear back in Almaty. There is no reason to carry double the weight for only a few days.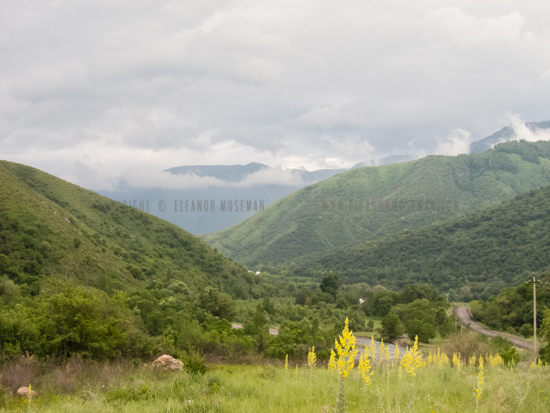 The route at this point seems very similar to a National Park in the States. The trees begin to enclose around the road; the road begins to incline and become more narrow. It begins to sprinkle and because of the weather it's getting dark much earlier than I had expected. To my surprise, I find a campsite next to large stream and a rock cliff. It will be my only campsite of my entire tour. I am usually very apprehensive about camping next to water because of the noise. Not so much about flash flooding, but because I can't hear visitors over the sound of the rapidly moving water. But I take it anyhow. It's beginning to thunder and lightening and decided I'd rather be dry for the night. This was actually one of the first lighting storms I camped in. It lit up the entire sky and the thunder bounced around the mountains.

June 4 2012
Morning, when everything is beginning to dry.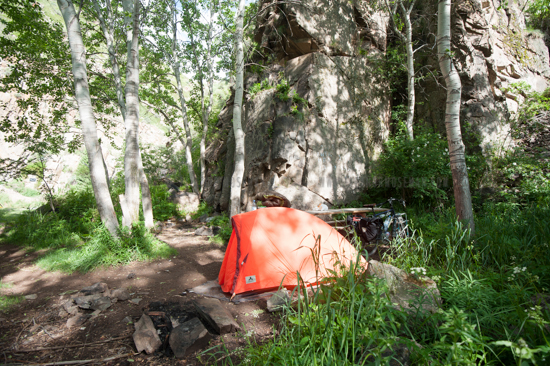 A view of the water I camped next to. I slept to the left of it. It's a morning of spotty rain mixed with warm sunshine when the clouds part. I have faith it will clear up.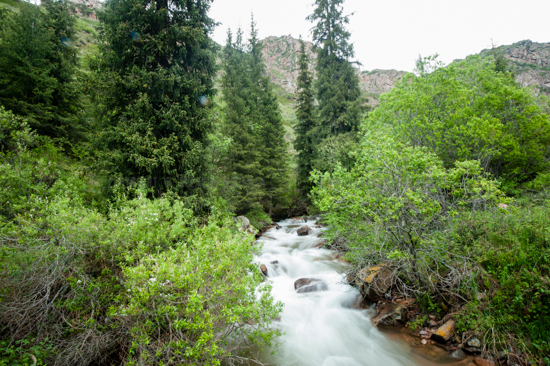 A look ahead.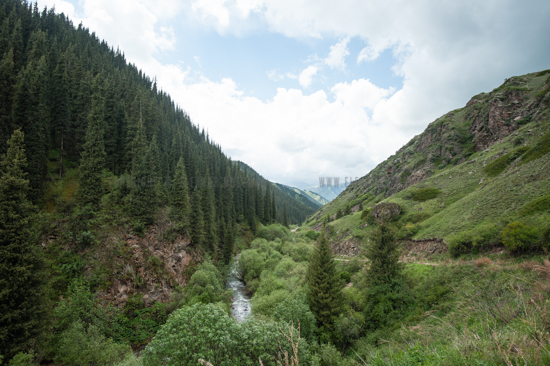 There is only about 15km of broken tarmac before I hit loose gravel and rocks. I was warned that the condition of the road would become pretty tough. Unfortunately the incline on the loose gravel caused me to get off and push. Little would I know that because of the lack of roads, I would be doing a lot of pushing. Descending the plateau, it would be more like slipping and crawling out from under my bike as it slips off trails. This would become one of the toughest terrains yet, but one of my most memorable experiences. It's really one of the last times I felt so damn free and alive. There is something about being alone on a plateau, anywhere in the world, that really makes you realize how fortunate you are to be there, and living.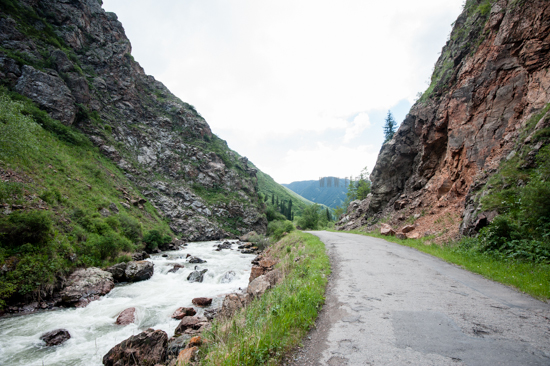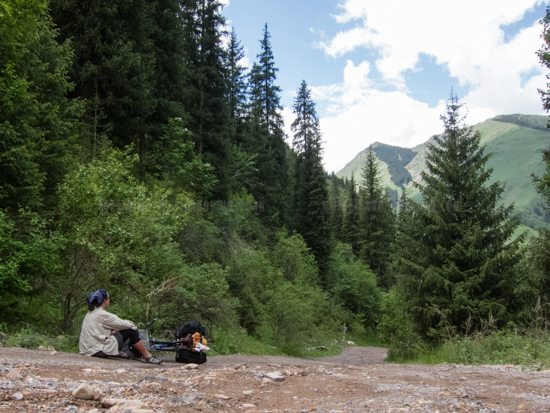 One of the most common questions I get when giving public talks or even discussing this trip, is "What do you do when you get bored?" Like I've stated before, I'm not really sure if I know what "bored" feels like. I can do almost anything to keep myself entertained. As a child I used to get in so much trouble for day dreaming in school. Well, I've kept up the habit and if I could become a professional at sitting and dreaming, well…you get it. The plateau is a short ride and I took extra time to just really enjoy being out there alone, with less of a load than I usually carry.

Right before noon, I am higher than the tree line and everything opens up. The ascent up to the plateau really begins, the clouds part, and the warm sun is beating down on me. I see pastures, rolling hills, yurts, shepherds, livestock, and the tops of snow topped peaks. I am getting anxious of what waits for me at the top…it brings back memories of the previous summer that I spent in Kham, Tibet.

I'm greeted by a nice shepherd and a young boy. They must of seen me coming as they rode down the hillside to say, "Hello". They were quite happy to hear I was an American, and not a Russian.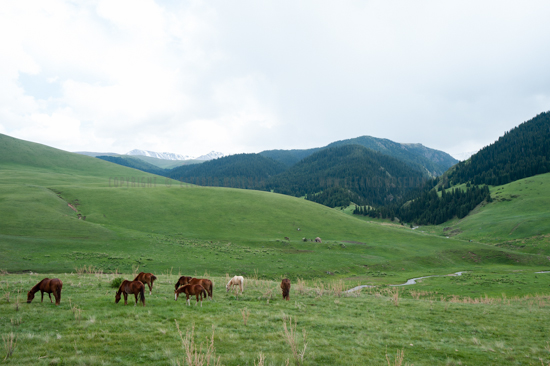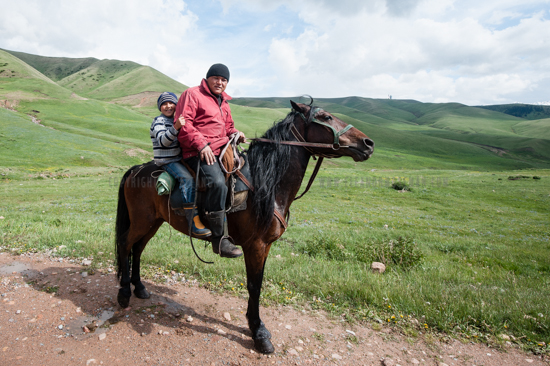 From the looks of the map I only go up this one pass and I've arrived to the plateau. The map is an old Russian map and the "roads" are questionable once I get to the top of the pass.
During the ride up the pass I come by a herd of horses. I walk over to not spook any of them and snap a few photos. They begin to move but a few actually approach me and start checking me out. I have a couple get closer than a meter to me. At the top of the pass I spot some pretty adorable cows and horses; awarding them with the "cutest cows of tour". They approach me like the horses but even more odd they FOLLOW ME on my bike! Over the past couple of months I've noticed I am having less problems with animals. I'm wondering if they sense something about me…perhaps I am becoming more like them than I can imagine. I no longer spook animals and they look and approach out of curiosity. Wondering what has changed that allows animals to feel safe and comfortable around me. I feel no different but obviously something has changed that animals and I have some sort of connection.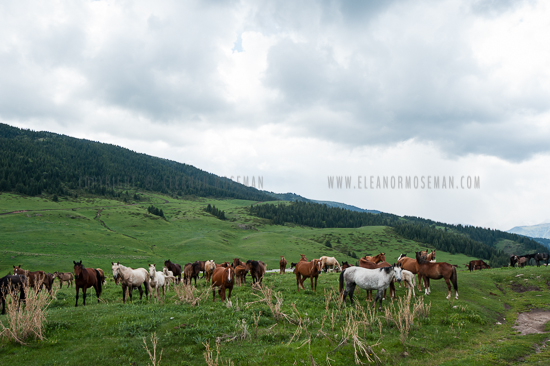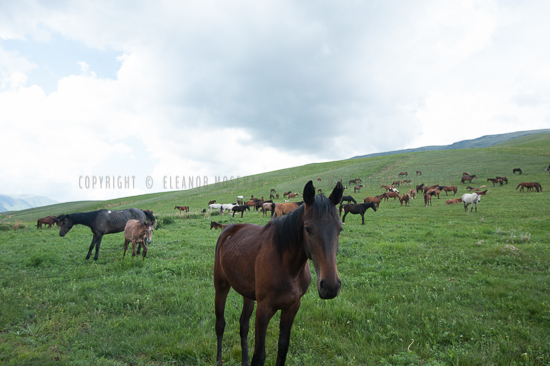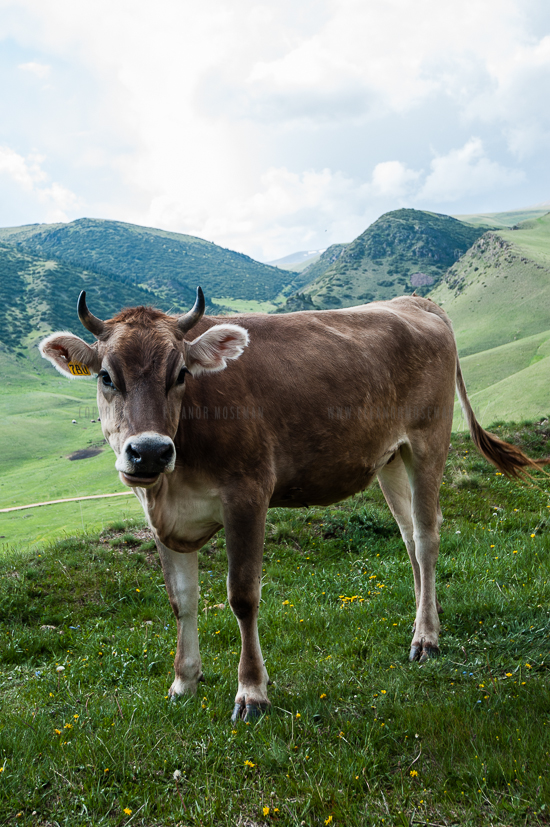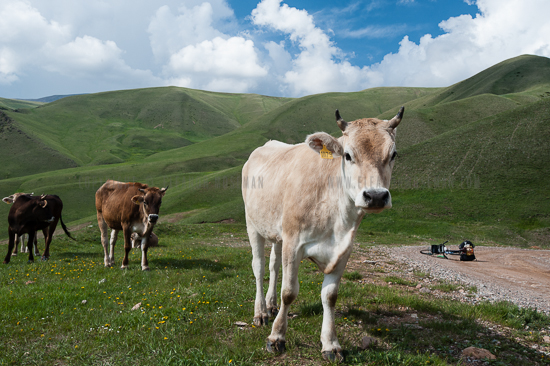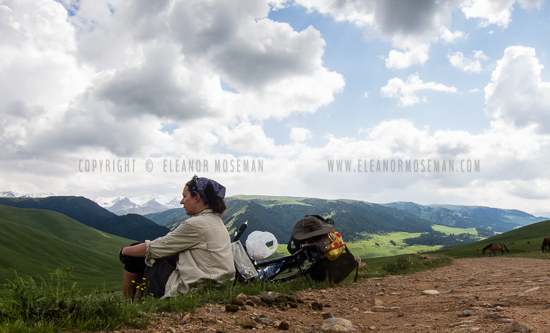 Making it to the top of the pass and now it's just full, luscious, green plateau that lies ahead. Of course doing what I love to do, and do best, sit and enjoy the moment. Realize how fortunate I am to be seeing and living such a gorgeous moment. A moment that I could never describe in words on a blog. Perhaps that is why I haven't written about this ride yet; it was just such a great few days that writing it down could never do it justice.
I hit a point where I have to make a choice on route. To my right, East-Southeast, there is a weather station that heads towards the mountain ridge. My map is questionable with this and I never heard anything on directions with the weather station. It is marked on the map. If I were to head towards the weather station, I would probably have to go over the ridge and head a little South.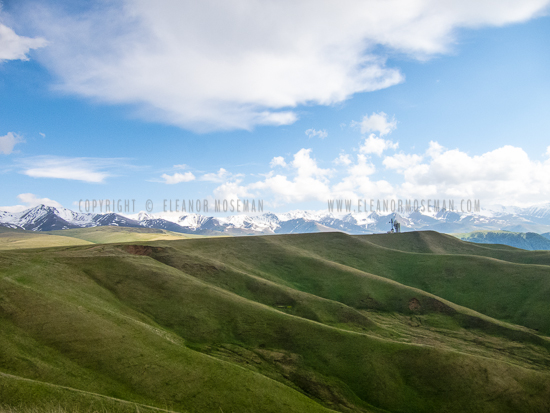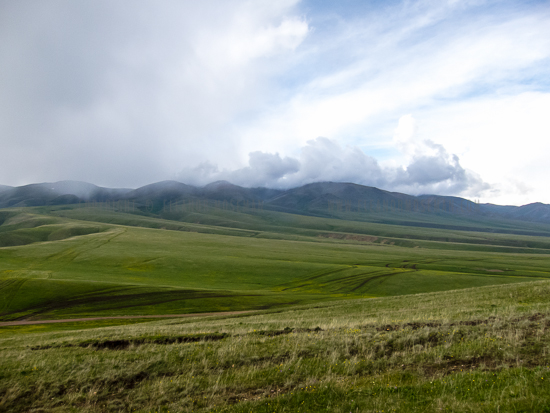 To the the left, or rather, directly in front of me facing East-Northeast is an open plateau with jeep tracks. The route to the weather station does have a road so I choose the road.
There is a road that leads up to the weather station but then disappears. I am then left with a deep jeep tracks in the rich black soil up towards the ridge. I'm really not sure if I'm going the right direction but continue on. It's beautiful up here and what a place to spend the eve of my birthday. I'm feeling so amazing, refreshed, and really back to me…I take some time to celebrate the past year.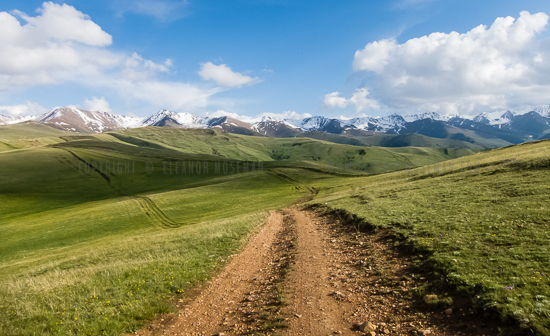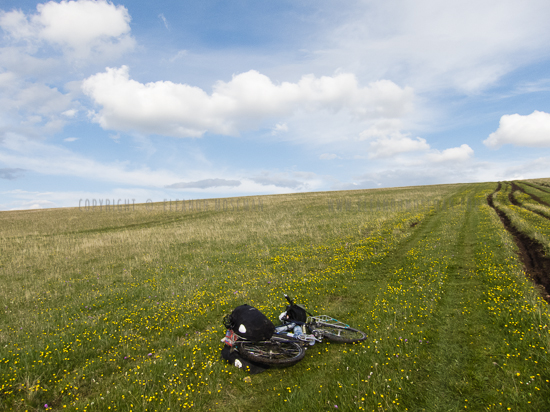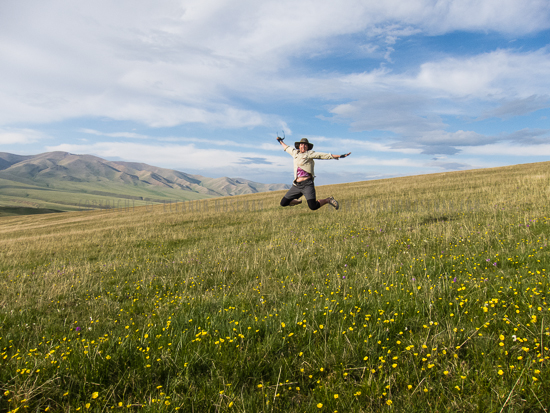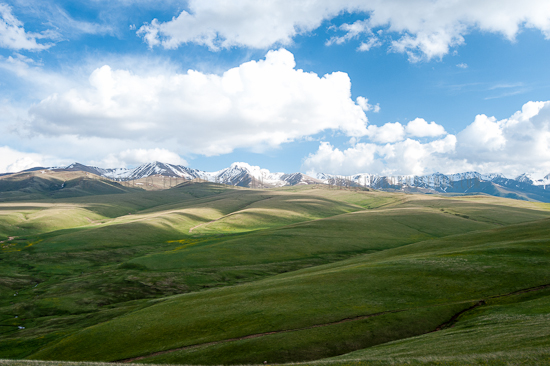 The road and tracks disappear and I look back. I can see a half a dozen motorbikes followed by a jeep take a different route from the weather station. Up over some hills, with great speed, and then back down in the valley I had already passed. I will push on.
I push my bike for 3 kilometers through pasture, with occasional stones that may have been a driveway. Arriving to the base of the ridge I now know there is no passing it. There are remnants of a yurt camp, and it looks like people bring their Land Rovers up here to wash them in the ice melt. Leaving my bike behind, and camera, I climb half way up the ridge to take a look around. Take a deep breath, after catching it, and reassure myself it's okay and I need to head back. There is no way going over the ridge and it's been awhile since any Land Rover or motorbike has attempted over the ridge.
Walk down, pick up the bike, and backtrack. I usually HATE THIS…but this time it was down and had quite a beautiful world to look out at. There is a storm blowing in so I decide to set up camp and call it an early night. At the altitude, I know it's going to be chilly and I want to be sure everything is set, and put away, before the storm comes in. I cook some pasta and add some delicious taco flavouring sent all the way in from Mom. It's a fine fine meal.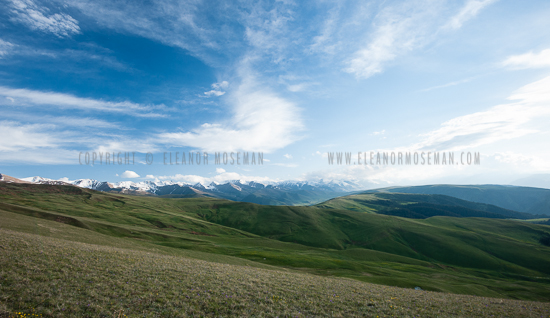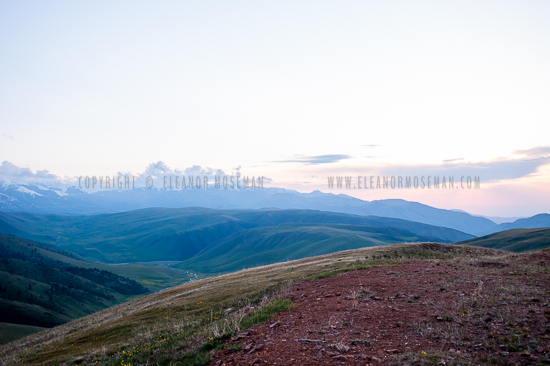 The sunset is breathtaking…perhaps the best I've seen since being in Tibet. Actually, the whole experience reminds me of Tibet. Maybe this is what is causing all these feelings and happiness. Guessing which routes to take, dodging storms, a little hail here and there, occasional nomads…simple life. It's places like these that I always say, "I could die here and be happy." Perhaps that sounds a bit macabre…but until you've been somewhere physically, mentally, and emotionally where you can sit down and say, "Wow…this is…". There are no words to describe it. I can't type anything here to explain what it's like.
It's been a hell of a way to say farewell to 33 and beginning 34.