I woke up sore and hungry…and not to mention thirsty. I slept okay for the most part, as there were no storms but still had a bit of panic sitting in my gut.
It's one of those mornings where I pull myself out of my bag and climb out of the tent apprehensively…wondering what the hell am I doing with my life.
Standing outside barefoot  knowing the heat is about to start pounding down,  I debate of what choice to make. I use my camera lenses to attempt to see into the mountains ahead. There are no signs of a road going down the plateau and there actually seems to be something going over the range and ridges. According to the map I should NOT be doing this. I was given directions that I should be passing a home, the only home on the plateau, and was given a DVD from the cyclist to deliver. The DVD had films of previous cyclists that had done this route. This house has not been spotted yet and I'm pretty sure I've veered off route – again.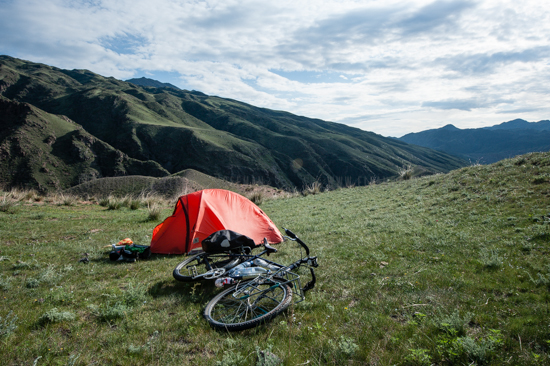 I plop my heavy bum down on the ground, alternating my view from my feet to the mountains. Slowly turning my head around the terrain…this is usually when I give a big exhale of air and tell myself to get my lazy self up and get my shit together. Slipping on my new sandals that I've already begin to tear because of walking through the broken terrain, I take a walk to the road to see what lies up ahead.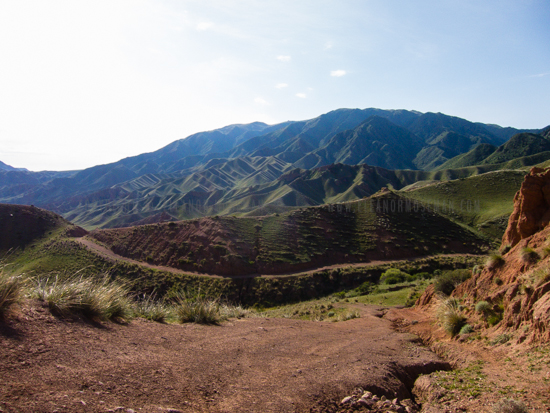 Within just a couple of yards it begins a descent and even without the bike I begin to slip in the tiny rocks on the red clay earth. It's dry, it's broken, and I have no idea how I'm going to make it but it's what I should do. My gut tells me to carry on…the road must lead SOMEWHERE. Or whatever this is, it's hard to describe it as a road at all, but rather some poor excuse for jeep tracks. I'm going to have to go slow and push the bike for the most part. Most importantly I have to get going because the summer heat is going to boil me alive.
I begin the day around 11:00 and ride for a short bit, with a bit of walking and slipping, and within 15 minutes I spot the small house. It's leveled out terrain with some trees and flowing water around it. Lying my bike down, I deliver the disc with a smile…hoping for an invite in, at least for some water and breakfast. I haven't had a bite to eat and I'm running low on water. He looks at me in confusion, with my horrible explanation in Russian. It's not worth it and I continue on.
As I'm leaving his home and yard area, there is water flowing under some trees. I see some animals around and I question the cleanliness of it. It seems stagnant in areas and I pass it.
The terrain is still holding it's level but the trees immediately disappeared and I'm surrounding by red clay and cliffs…and it's getting HOT.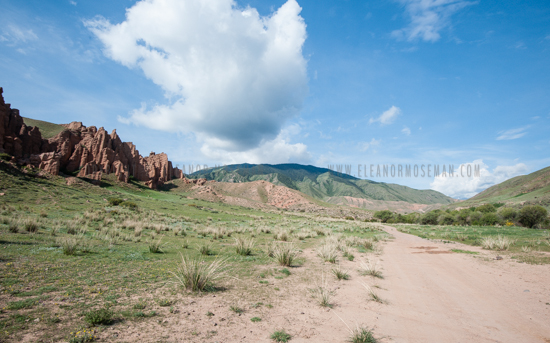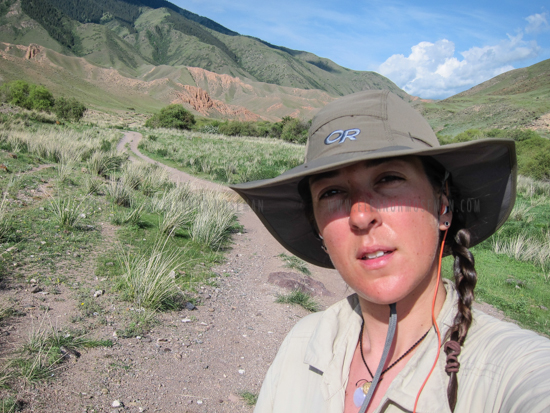 This route confirms that it's much more difficult going down than going up. There are spots I have to get off the bike because braking doesn't work and all it does is slide me down the road with the back wheel trying to go faster than the front, causing minor spin outs. Either I'm sliding on my bike or I'm holding onto my bike walking her down and slipping nearly the entire way down. Of course I remain calm, not a peep from my mouth, cool as a cucumber…knowing I have to do this and there is no point in throwing tantrums or cursing.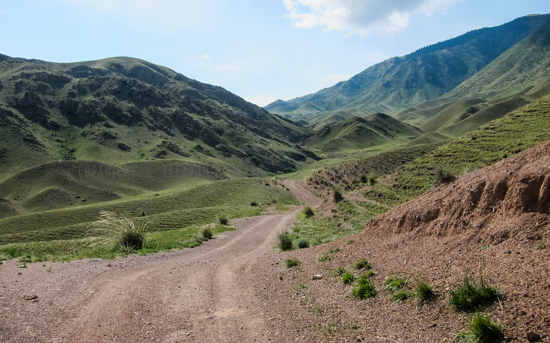 Traveling solo teaches you, and you come to realize, that outward expression of emotions is only for the benefit? of others that surround you. There is no reason to curse, or scream, or even laugh…when you area all A L O N E…AND NO ONE KNOWS WHERE YOU ARE…let alone hear a peep that comes out of your mouth. Don't get me wrong, I still get a mad woman cackle of laughter every now and again, and of course a few tears here and there, but I see it as more of a release of emotions for stability.
I'm able to ride a whopping 2-3 kilometers up a slight incline to find myself on another type of road conditions. Things are beginning to look a bit more hopeful. I see a small abandoned house and an old sign signifying a resort or hotel. It's obviously no longer used, or no one is home. I take a break to take a look at from where I've come from. There are storms clouds that are beginning to roll in and I'm so thankful as the overcast will cut down on the heat.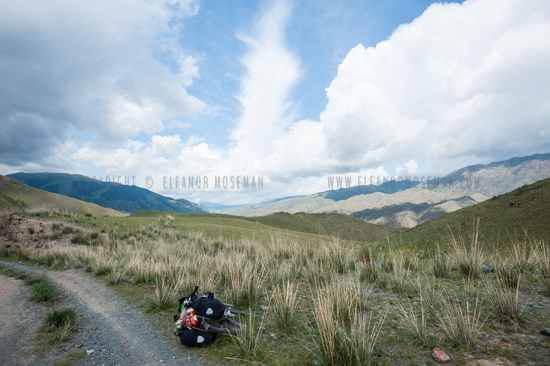 After years on the road and in the sun, I've started to become very aware of how much of my skin is exposed. You'll probably notice through images from the beginning to the end that I begin to wear more clothes, even in hotter climates. It was in Tibet that I learned that I actually stay cooler with clothes covering my skin. I also prefer not to show much skin to locals, as a single woman. I'm of the camp where when it comes to covering, the more the better. You can't ever go wrong with that choice.
After a brief rest looking at the past I begin to carry on to the future. What I ride into becomes glorious. I can't believe my eyes…so much that I have to sit and stare into whats to come. A descending plateau, a lake ahead, and amazing road conditions for me to pick up great speed. Knowing that I'm going to be riding with a shit eating grin down the entire way, I take my time to have a little snack and breathe.
And a little bicycle and girl pin-up photo for you folks.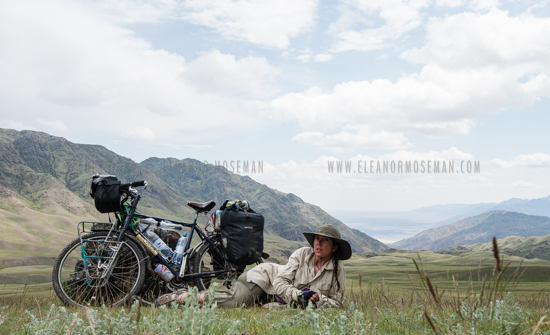 I descend fast, hard, and with a smile the entire time. It's less than 5km then it levels out and I've encountered some of the worst terrain to get through…even worse than Tibet. It's rough, it's tough, and I even tumble a few times. I bust my bottom at least a few times from my feet slipping out from under me and the bike nearly coming down upon me.
The most fearful moment is when I'm walking the bike along the "road" that is breaking off and there is a 2 meter drop off. I debate how to walk her by as I think I'll have more control on her right side. As I'm right handed I usually always walk the bike on the left side. So I move over to the right, very precariously, and begin to walk past the ledge. The bike slips because of the incline and before I know it the bike is on top of me with the wheels just a few cm from the edge.
Holding onto the bike I crawl out from under her and drag her on the side to get enough space to lift her back up to safety. The problem is my feet are slipping in the fine gravel and can't find my footing. This goes on for nearly five minutes knowing that the bike CAN NOT slip off the road. With a few huffs and puffs and a heave and a ho…we are both up. Although I'm sweating much more profusely than her.
It's the moments after these moments where I smile…sometimes just from within. It's these treacherous and challenging moments that I can say, "look what I did…on my own". It's the challenges throughout this entire tour that has brought joy to me, made my heart fuller, and a reminder that I am a "warrior". (A name Chris Alexandre would give me). Yes, I cried for a few seconds yesterday when I thought I may be lost, just 24 hours earlier…but then pull my self up and my bike to say, "Look at what I can do!!!"
It must be at least 10km of this terrain before I can begin the final descent to the lake.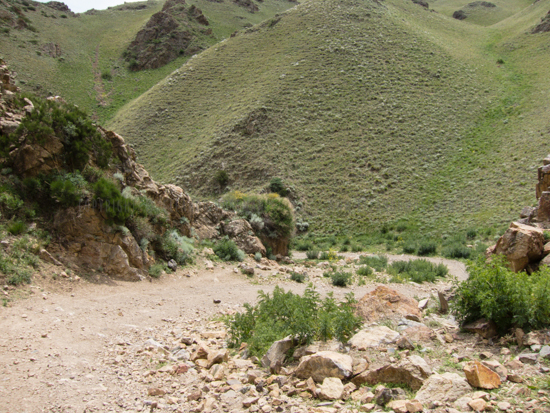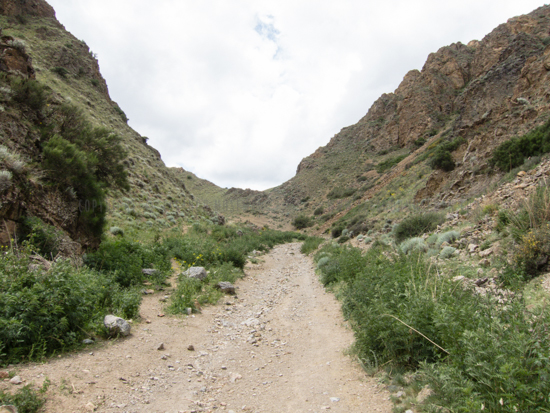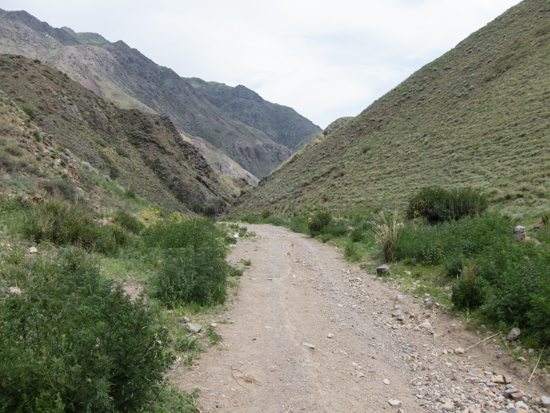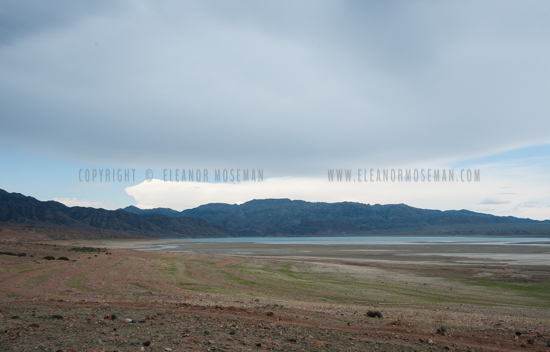 Well folks, that's it. In retrospect, this was the last great ride of my tour. The last great few days of solitude, thinking, feeling, and looking at myself and finally realizing what I've accomplished. There was something about this route that embedded who I've become and who I finally am. It was a pivotal point in my tour, my exploration, and the finalization of seeing the love for myself.
It was a moment to make peace of an ended relationship; to realize I'm strong enough to carry on alone.
It was a moment to be thankful for the people in my life that have helped make this whole thing possible.
It was a moment to let go of so much of the past and know what ever the future carries for me, I can overcome it…anything.
It took me over a year to write this entry because it carries such strong emotions, many that I still have difficulty expressing. It's strange what a few days alone, with a bike, can do for the soul.
If you haven't seen it, this is a short film I put together of my time out there, featuring a song from Cat Power. The music I was listening to during this ride was the Kings of Leon…I had enough albums to keep quite entertained for the few days. I would enter Uzbekistan on June 9th 2012.