June 8th 2012 I would leave Kazakhstan and take a bus to the border of Uzbekistan. I had spent a month obtaining 3 Visas: Uzbekistan, Tajikistan, and the Kyrgyzstan to return to China (which I wouldn't have to use because of new Visa regulations).
The previous night I had dinner with a cyclist I had befriend via Warmshowers who was a pilot with Astana and a few of his friends and co-pilots. Something strange happened that evening that would just add onto to the drama dealing with the opposite sex.
It was a dinner party and although it was in a "safe" area I still stick to my rules of drinking alcohol. Before I continue that I will share a few things that I stick to while traveling. I NEVER drink in public. I specifically NEVER drink around locals…unless it's a watered down beer in China at lunch time when I'm trying to get a calorie consumption up. Hostels may be a different occasion, and that is far and few between. I've been known to lock myself up in a room to enjoy a bottle of a wine but I do not frequent watering holes and I never take up any offers of social drinking. The first few months of my tour I had a HORRIBLE event because I went to dinner with 3 guys that got extremely intoxicated and my sober self was locked in a truck stop room and threatened for 4 hours until he finally made his move.
Anyhow. I was tired and had a long day of travel ahead of me so I left the dinner table as people were leaving and others way to too intoxicated to deal with. After lying down on the couch, going to sleep…a little while I wake up with the lights off and someone sucking on my ear. Being woken from a slumber and groggy, I push the head away from me and roll over and shove my head in the couch cushions. At this point, nothing surprises me anymore and it's just better to be firm and continue on.
The next morning I'm so ready to get the hell out of there. The cyclist host escorts me to the bus station where his Kazakh/Mongolian roomate and wife are meeting us at the station to help me buy the ticket and load up my gear. Of course there are difficulties because it being a bike but thankfully I have a local to help me.
Being rushed for time, I wasn't able to stop by the 1 ATM in Kazakhstan that accepted my China Bank card. I stopped by a half dozen on the way to the station trying to find an ATM to withdrawl cash. I knew I should of done it earlier and my host is hassling me with his machismo. I finally put my foot down, especially after the previous night, and demand he quit speaking to me the way he does. No tolerance today for this stuff.
I load up my bike and gear, never mention the incident of the previous night, give hugs goodbye and get on that bus.
There is a vivid memory of the movie on the bus. It was a TV Drama in Kazakh and I remember there was a domestic disturbance. A man eventually killed his wife because he beat her so badly. The entire bus was drawn to the show. I couldn't even stand to look. Welcome to Central Asia…in a month I would say, "Uzbekistan…where they treat their donkies better than their wives." Have you ever seen a man reprimand his donkey on the roads in Uzbekistan?
I would get to the border crossing and get off the bus. It's hot, dry, sandy, yet not as hectic as I had anticipated.
Pushing my bike up to the Exit building, I would leave my bike outside and go in to get my Exit. Stamp…and through no man's land. Deep breath…about to enter a new country that I know very little about but know the Exit/Entry inspections can be a real hassle.
I go through the first inspection, precariously getting my bike through the little closets the inspectors sit in. Then through a parking lot and into another line with about 50 Uzbeks in line. I'm waved ahead of all of them and helped into the next building with my loaded bike.
The form is in Russian and Kazakh…um….what? Luckily a young man approaches me and helps me fill out all my forms and gets me to the next inspection.
So, six months earlier when I returned to Shanghai for 6 weeks after Tibet I had accidentally washed my passport in hot water in the washing machine. Of all places, Uzbekistan is the place they caught onto the "damaged" passport. Come on, I'm on a bike, of course it's going to be damaged, right? Flashing my smile and working my lady like demeanor I get my stamp and move on.
I've removed and replaced my panniers about a dozen times within the entire Exit/Entry process and this final one the entire room of security and police are all smiles asking me about myself. I've got my stamp and I can calm my nerves a little bit. I load up my bags for the final time for the day with a smile and even enjoy the chit chat.
The fellow that assisted me with my form walks out with me and we are speaking. As we are exiting, coming from the opposite direction is an officer with a semi-automatic mega gun pulling a woman by her hand. She's screaming at him. In her other hand is a small child crying, being dragged along. She breaks free and the officer grabs her again. I see this happen a few times and we cross paths he's got his arm gripped onto her as she tries to break free, screaming at him at the top of her lungs with the child continuing to cry in fear. Where the hell am I…
Women selling wares and foods all along the small town road I avoid the children asking for money. I go into a small cafe and get a basic lunch. There is a woman there, that has been living in New York, that is originally from this town. She's confused why anyone would want to visit Uzbekistan. Why any woman would want to ride her bike around the world. It was nice to have some moments of English and a bit of grounding conversation. She's able to translate to the cafe.
I get up to pay my bill and the cafe owner waves his hand as if to say "no". I'm confused. The woman translates to me that the lunch is free. I smile humbly and thank him, thank his wife, thank their children and thank the woman I had just met. Now on to Tashkent.
I cycle from the border to arrive in Tashken later in the afternoonand I had an idea of two guesthouses. I stop to drink an ice cold Coca Cola on the edge of town. In the city center I stop again for another Coca Cola…they taste too delicious. I'm never a soda drinker but there is something about the sugar and salts that give me a little of what I need to keep going. Besides this, I need to stop and think about the next move. Cities always throw a wrench in plans and I can always expect a few hours to find a place to stay.
The first internet cafe I spot, I stop to look up guesthouses. Finding them on Google Maps, I write down the location and ask the attendents how to get there. Also just a few emails are sent out.
I'll arrive to the guest house that is nearly empty and still the only cyclist. This would be the LAST major city in Central Asia that I would be the only cyclist. All up to this point I rarely stayed in proper hostels or guesthouses. I had only crossed the paths of about 6 foreign cyclists since May of 2010. Rarely even seeing other foreigners at all.
While in Tashkent I would spend a week working out some financial issues and also my Kickstarter campaign had been successful which, thanks to all of you, I was able to continue on. Also planning my route through Uzbekistan while picking up some supplies for the next week or so.
My rear brakes would be replaced. The first set of brake replacements, and the only, for the entire tour.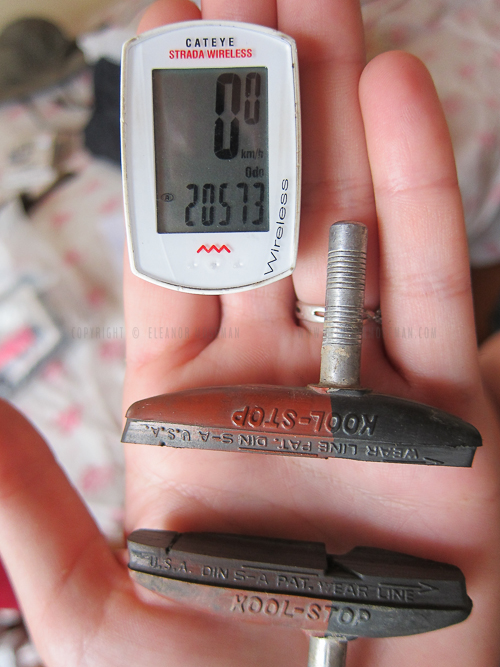 I would spend time in the bazaars and just meandering around the city, avoiding the heat as much as I could during the day.
Naan seller…how I love naan. All the carbs a lady could ask for.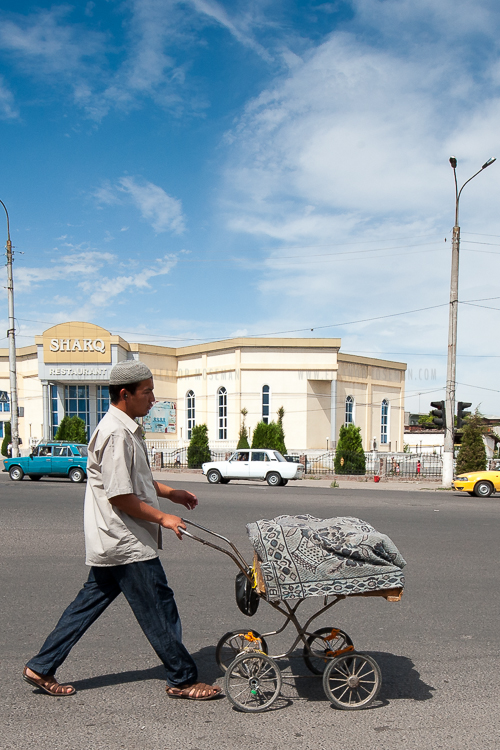 About 25 USD…yeah, its a total pain to carry Uzbek money and you MUST buy it on the "black market". It's actually the easiest just to use USD as everything is quoted in American currency anyhow. Oh the power of the US Dollar.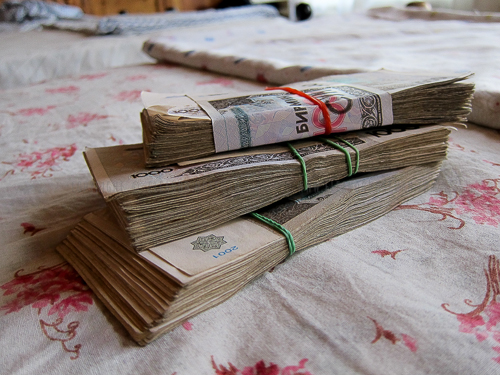 Towards the last days there, I would meet two Italians on motorbikes that had just completed the Pamirs. They were quite kind to me and we chatted for a few hours. One even let me sit on his bike after I had admitted I was ready to pick up the power between my legs. A lot of cyclists complain about the attitude of folks on motorbikes but it seems they love a doe eyed young lady that wants to know as much about the bikes and techniques they have mastered.
I would leave Tashkent on Jun13th and head towards the Nurata mountains.
Yes, the last place I left you all, dear readers was in Kazakhstan. I'm currently working on my new Chinese Work Visa…as I was in Shanghai for the last month, and even have a new quaint bungalow, so I thought I'd try to catch you all up. Keep your eyes open for an announcement of a project I have planned for late winter.