Arriving to Bukhara by ten o'clock am, as I had been on the road since 4 am because of the previous night's assault.
I arrive into the city center and begin looking for hotels in the area. Roaming around and around and around in the heat, I feel myself coming to a near collapse. My cure for most ailments is ice cream and a cold soda.
Walking over to a market where I can refill my SIM card so I can access Google Maps and grab an ice cream.
Sitting on the curb in the shade, trying to regain my since of my direction, I notice how ill I'm beginning to feel.
A young Uzbek comes up to me and tries to speak with me in broken English. He offers me a cold Coca Cola in a glass bottle and we sit trying to communicate about the usual basics. I finish the soda and he offers me another with exclaiming I should wait as he wants to show me something.
He returns with a laptop that appears to have a bootleg video playing. I can hear the vague sound of English and realize he's grinning at me as he's showing me pornography. Setting the soda down, I say thanks and leave.
Very kind locals help me navigate through the historic part of Bukhara to find a hotel. The first one I try I notice it's all women around and taking care of the business matters. After the past couple days this is exactly what I want and need. I pay the basic fee for at least three nights, load my belongings into a small and simple room and literally collapse. Physically exhausted. Something much more than fatigue and my body is not feeling right. It is reminiscent of the days of dysentery but my head feels messed up as well.
For the remaining of the day and into the night I'm drinking my emergency supply of drink supplements for dehydration. It's the only thing I can think of since I've been in the desert for so long with the blazing heat down on me ever day.
Once it cools down a bit and think I can actually leave the room, with no appetite, I walk out to the center area of the old town to refill my water supply. Walking back to my room I see a young man with a touring bike talking to a local girl. It's been ages since I've seen another cyclist and of course introduce myself and we begin chatting.
His name is Chris-Alexandre of www.allschoolproject.ch
He is stuck in Bukhara for about another week as he was bit by a dog and tending to his rabies shots. Both of us are ill, him from the rabies treatment and me from whatever I'm suffering from. (It turns out that many cyclists will get sick in Bukhara, and Uzbekistan in general, and we hear it may have something to do with the cooking in cotton oil and our bodies not being able to process it.)
A little site seeing in Bukhara as I don't have plans for staying as it's extremely touristy and I want to be back on the road. I have also been spoiled by kind strangers helping me and in Bukhara I'm scammed by a man who wants to show me around. This post is starting to sound like a lot of negative things so I'd like to not go into detail as Uzbekistan is still one of my favorite countries and the hospitality I was shown was some of the best.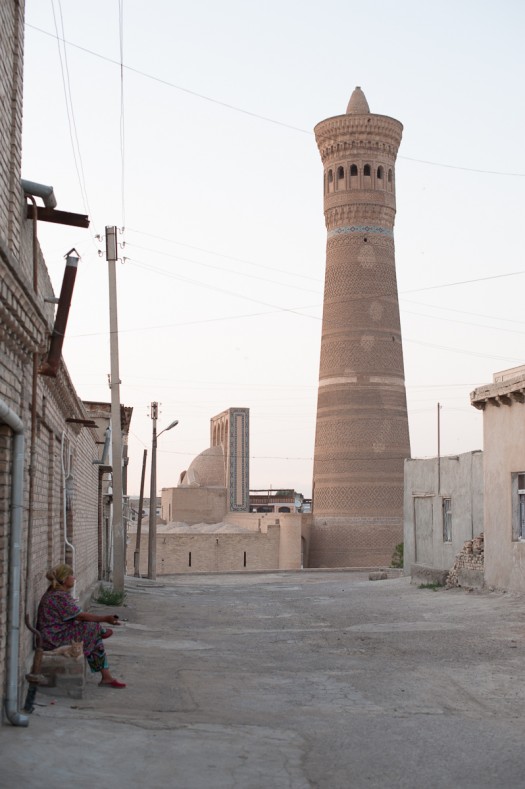 It was great spending a few days with Chris-Alex and making plans to meet back up in Samarkand. He had befriended a wonderful young local woman that sold her paintings and her mother had another shop of porcelains and souvenirs. I would end up buying a few of her paintings for Christmas gifts.

I would leave Bukhara on the morning of the 24th of July, 2012.
…and OF COURSE, by now you've learned I do anything I possibly can to not take the beaten path.
It's a little difficult to navigate to the small road I found on the map but locals help direct me at a busy intersection on the edge of town. Of course I've gotten a bit of a late start and the sun is beating down on me and I can feel my body weakening under the desert sun. As I approach the small road for the turn off after about an hour of riding, a car pulls up to me and pours out cold water from a thermos. Sitting here, writing this nearly two years later, this memory is still so vivid. I remember how amazing the cold water felt in my mouth and going down my throat, almost as if dropping my body temperature by a few degrees. Their smiles and waves will never be forgotten; they helping out a stranger and guest in their country and me being so thankful for such a gracious and simple act of kindness. Cold, clean water. That may have been one of the most memorable drinks of water of my life.
Before finding camp that evening, I had a nice man offer me to come watch a football (soccer) game with him. If my memory serves me correctly, it was the World Cup and is quite popular everywhere in the world. After being in a touristy city for a few days, I politely decline, and fantasize about being all alone once again in my tent.
I am now all alone on the golden road to Samarkand.

The Golden Road to Samarkand by James Elroy Flecker
HASSAN:
Sweet to ride forth at evening from the wells,
When shadows pass gigantic on the sand,
And softly through the silence beat the bells
Along the Golden Road to Samarkand.
ISHAK:
We travel not for trafficking alone;
By hotter winds our fiery hearts are fanned:
For lust of knowing what should not be known
We take the Golden Road to Samarkand.
MASTER OF THE CARAVAN:
Open the gate, O watchman of the night!
THE WATCHMAN:
Ho, travellers, I open. For what land
Leave you the dim-moon city of delight?
MERCHANTS (with a shout):
We take the Golden Road to Samarkand!
(The Caravan passes through the gate)
THE WATCHMAN (consoling the women):
What would ye, ladies? It was ever thus.
Men are unwise and curiously planned.
A WOMAN:
They have their dreams, and do not think of us.
VOICES OF THE CARAVAN (in the distance singing):
We take the Golden Road to Samarkand.
On the morning of the 25th I would wake up as the sun begins peaking above the horizon. The golden rays turning the sky from black to blue and there is complete silence and stillness of the air. I would sit on my hilltop looking into the countryside contemplating life, feelings; truly living in the present moment and being so thankful to be where I was. On my chosen hillside for camp, a shepherd would greet me as I finish packing up my gear and we make a little small talk. Waving goodbye, I'm on the road just as dawn breaks.
Later in the afternoon I would be sitting on the side of the road looking out into cotton fields.
A boy comes up to me and starts trying to speak to me in English. He leaves. He then returns with his mother and younger brother. I remember her being beautiful and she refused to let me take her photo. The three of us sat on the side of the road together for about an hour just staring out into the fields and talking on occasion. They would leave for the late afternoon nap, and I'm left alone again, but not for too long.
A car pulls up and 4 men exit. I'm asked if I'm French and I say "no". Then the jokester puts his hands on his hips and starts thrusting his pelvis back and forth while saying "sex sex sex". I'm utterly disgusted and get up and leave.
At night fall I would go into a cafe hoping they would let me sleep outside after I eat and pay for my dinner. The usual questions are asked but I'm not invited for a stay and see no women around anyhow. It probably wouldn't be the best after this streak of luck I've been having.
I ride my bike into the night for about an hour until I see a cleared field. Pushing my bike down through a ditch and heaving it over dried grass, I walk about 2 kilometers from the street. I throw my tent up in just a matter of minutes and collapse.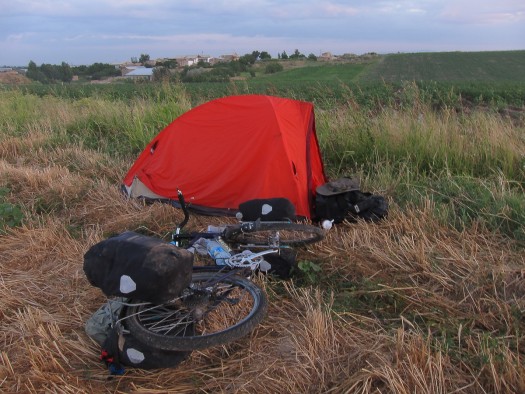 The afternoon of June 26th 2012 I would arrive in Samarkand.